Pong Kombat 3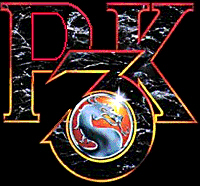 Brandon Kuroda a.k.a. Krappy Software <krappysoftware@home.net> first released Pong Kombat 3 in January 1996 for Macintosh computers. It's seen a few updates since then, and Macintosh emulators have become good enough so that you can actually play the game on your PC now!

It really is a fun game to play, like Pong but with special moves, graphics, and sounds straight from the Mortal Kombat games. If you like Pong or Mortal Kombat or both, this game is a must-have! If you like it, please visit the Official PK3 Homepage and register it - you get access to the six hidden paddles if you do!

Download Pong Kombat 3 2.0 - 4,110 KB
Download 2.0 -> 2.1 Patch - 52 KB

If you are having problems with the above files, try at CNET.

Screenshot 1
Screenshot 2
Screenshot 3

Pong Kombat 3 Readme
Cybersmoke's Pong Kombat 3 Faq

Don't know how to run Mac programs on your PC? Visit www.ardi.com and pick up the Executor. More emulators, such as Fusion and Basilisk, are available at the Macintosh section of Zophar's Domain.



E-Mail ]{0MBAT

Return to The Kombat Pavilion