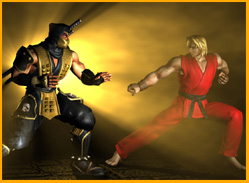 Let's begin with a quote from the head honcho himself, Ed Boon.

Ed Boon: "I've always been a big fan of other fighting games. I play all of the big fighting games in the genre – Tekken, Virtua Fighter, Street Fighter and so on. I've always wanted to cross over with another series..."

Ed Boon: "So, we actually pursued some crossing with some of these other fighting games but it never really panned out..."

Ed Boon: "I think the underlying thing that was always a problem was that it was always our competition. If we were to do a Street Fighter vs. Mortal Kombat game, who's going to develop it, and who's going to own the rights to it? It's that kind of issue."

Ed Boon: "I did a couple of write-ups and whatnot on it, and sometimes we'd get really close to it but issues like our representative for the other company left the company for some reason, and that reset the whole thing back to beginning..."

Ed Boon: "I still want to see it happen."
To read the interview in its entirety, and to read the quotes in their original context, click here. So, it seems like Mortal Kombat vs. Street Fighter (at least in its official capacity) is not going to happen any time soon... that's where the fan community comes in!